Brickworks Ciderhouse 1904 (473ml)
Brickworks Ciderhouse is a collaboration between childhood friends and long-time cider makers, Chris Noll and Adam Gerrits. They source their apples no further than 300km from their Ciderhouse in Toronto.
Tasting Notes
This small batch cider was crafted from hand picked heritage apples from Niagara and Georgian Bay. Crisp, flavourful and refreshing. 5% abv.
Method
Batch: 1904 delivers a dry, tart cider with a refreshing full apple taste finish that will take you back to the turn of the century. Brickworks locally sources and presses fresh Ontario heritage apples grown in the micro climates of the Georgian Bay and Niagara regions. No ingredient travels further than 300 kilometers from the tree to their Ciderhouse in Toronto, a benchmark for local food and sustainability.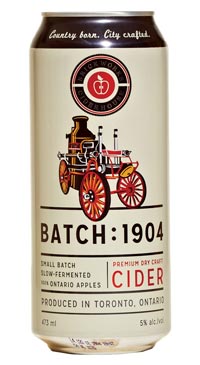 You may also like...