Brocard Chablis Grand Cru Bougros (750ml)
Food Pairing

Grilled FishLobsteroysters
The domaine of Jean-Marc Brocard began as just one hectare- a gift from his father-inlaw, when he married into a wine-growing family. He has since expanded to 200 hectares, of which eighty are biodynamic, and is widely recognized as one of Chablis' leading producers. His approach is one of minimal intervention, in both the vineyard and the winery.
Tasting Notes
Mineral on the nose, oyster shell, with some spice and smoky brioche notes. Elegant and concentrated palate with flavours of citrus and stone fruit, real texture and grip, and an energetic and lingering finish.
"An almost counterintuitive vintage, as the volumes were much higher than we anticipated and particularly given that most bunches had tiny berries. We picked from the 3rd to the 24th of September and because the conditions were so clement and the fruit was so clean we could harvest each parcel at the optimal degree of ripeness." -Julien Brocard
Method
Cultivation is practically organic, with ploughing in place of herbicides, predators instead of pesticides, and manure rather than fertilizer. They also spray as little as the grapes' health requires. The results are pure, unadorned expressions of the great chalk slopes of Chablis. Bougros is a grand cru vineyard in the west of the appellation. These thirty-year-old vines have a southern exposure and grow on Kimmeridgian soil. The grapes were pneumatically pressed before undergoing temperature controlled fermentation with indigenous yeasts. Malolactic fermentation was completed and the wine aged in a combination of stainless steel and large oak casks.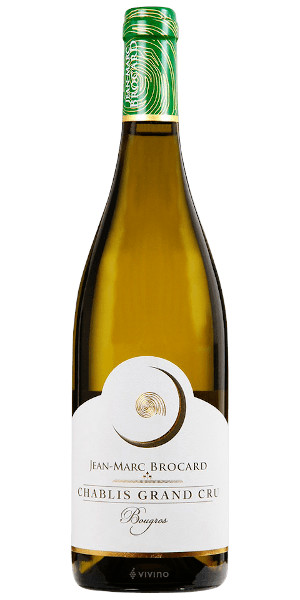 You may also like...