Bulwark Thai Purple Mist 500ml (500ml)
Muwin Estate is the name behind Bulwark Ciders. Situated on five acres of fruit orchards and berries in New Ross, Nova Scotia, the company produces fruit wines and ciders under the Bulwark label.
Tasting Notes
At first sniff, this cider smells a lot like the Bulwark original, but a a second whiff reveals floral components with herbal tones as well. The aroma and flavour develops as the drink sits in the glass and becomes a very complex and enjoyable cider. And the purple colour is a head turner, no doubt!
Method
Thai Purple Mist is inspired by the bright blue petals of the butterfly-pea flower that grows in the misty hills of Northern Thailand. Used for centuries as a natural dye, the iconic flowers steeped into signature Bulwark cider blend to impart a floral blue purple colour; it's earthy and woody notes combining beautifully with apple blossom aromas. With a crisp finish and subtle sweet undertones, this purple cider will be the bright star to any occasion.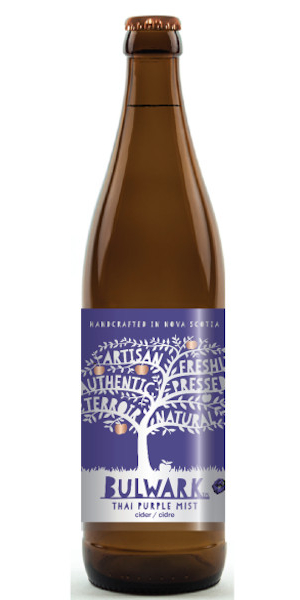 You may also like...