Bulwark – Winter Cider (473ml)
Tasting Notes

Baking SpiceCrispOff-Dry
Muwin Estate is the name behind Bulwark Ciders. Owner operated and based in the heart of Nova Scotia, this local team is directly involved with the development and success of Bulwark Cider. Made up of specialists from all walks of life, they're dedicated to a common unifying goal: authentic, natural, delicious cider.
Situated on five acres of fruit orchards and berries in New Ross, Nova Scotia, the company produces fruit wines and ciders under the Bulwark label.
Tasting Notes
Winter Cider starts off extremely juicy with semi-sweet and crisp red peel apple notes followed by a sharp cinnamon that almost consumes the apple and disappears as quick as it started. Some ginger notes appear as the apple becomes a bit more mellow, less juicy and more hard cider focused. The ginger accentuates the spices and is hard to detect until you think about it. A lot of energy and full-bodied in this offering which could also be served warm.
Method
Back by popular demand, your favourite seasonal cider is here! Treat your guests to a winter drinking experience like none other – Bulwark's Winter cider. Warm and inviting, Winter combines Annapolis Valley apples with cinnamon, nutmeg and allspice; well-balanced and arguably irresistible.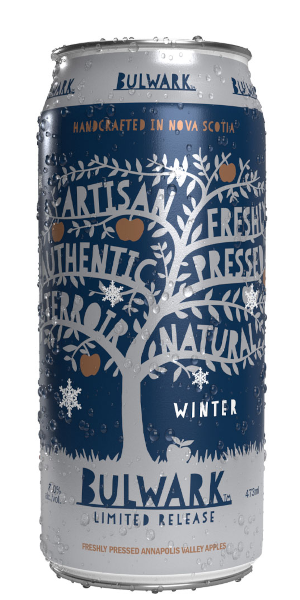 You may also like...
Express Shipping!
For select shipping postal codes, this product may be eligible for Express Delivery! Click here to learn more.