Burdock Good Grapes Cab Franc (355ml)
Beer Style

Mixed Fermentation Beer
Burdock brewery set up shop in what used to be an old Portuguese chicken restaurant, and they transformed the space into an artist-driven bar/restaurant/music hall/microbrewery run by a group of musicians and music lovers. They offer a rotating list of clean pale ales, complex saisons, crisp pilsners, zippy sours, and beer-wine hybrids that are all brewed in house.
Tasting Notes
Dry-hopped sour beer co-fermented with hand de-stemmed Cabernet Franc grapes. The acidity in this is very subtle, more like the acidity you'd get from wine, and not the kind that's present in most craft beer. Expect notes of electric violets, slightly melted purple freezie and a little earthy sweetness
Method
Made in the spirit of using good things twice, this sour beer was aged briefly on 2nd use Cabernet Franc grape skins from the 2020 vintage – acquired via the generosity of Pearl Morissette winery in Jordan, Ontario.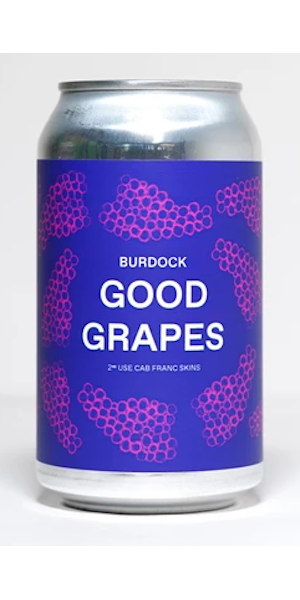 You may also like...