Burnside Brewing – Beer Can Square Pants IPA (473ml)
Beer Style

American IPA w/Fruit

Tasting Notes

JuicySmoothunder the sea
The Spindrift Brewing Company is now called The Burnside Brewing Company
Established in Dartmouth's Burnside Park in 2015, and immediately starting out with one single core beer, the Coastal Amber Lager. Spindrift, now Burnside Brewing, made waves throughout the province and quickly started producing a wide range of lagers, then followed with an impressive selection of barrel aged beers, and hoppy ales. All these years later, you'll find them still focusing on a core lineup of award winning lagers, some under the side brand; Toller, as well as fruited sours, IPA's, and thick stouts.
Tasting Notes
Azacca, El Dorado, and Bru-1 hops provide a blankt of tropical hoppy goodness that allows the pineapple juice to shine through. The mouthfeel is refreshing, and moderately bitter while the pineapple adds a little mid-palate texture.
Method
Emphasising hop aroma and flavour without bracing bitterness, the New England IPA  leans heavily on late and dry hopping techniques to deliver a bursting juicy, tropical hop experience. The skillful balance of technique and ingredient selection, often including the addition of wheat or oats, lends an alluring haze to this popular take on the American IPA.
Beer Can Square Pants IPA takes the New England IPA style, and adds a touch of pineapple juice to the mix. The tropical flavours from the Kveik yeast and the hops pairs perfectly with the ripe tropical flavour of pineapple.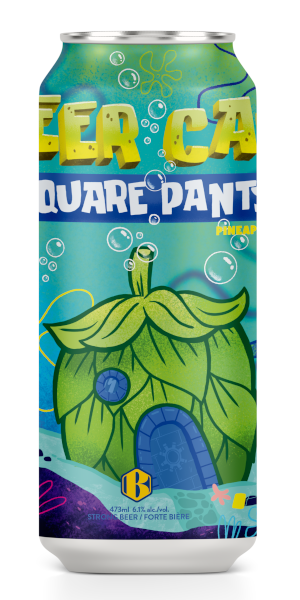 You may also like...