Burnside Brewing – Grapefruit Spaceship IPA (473ml)
Beer Style

American IPA w/Fruit

Tasting Notes

BitterJuicyvibrant
The Spindrift Brewing Company is now called The Burnside Brewing Company
Established in Dartmouth's Burnside Park in 2015, and immediately starting out with one single core beer, the Coastal Amber Lager. Spindrift, now Burnside Brewing, made waves throughout the province and quickly started producing a wide range of lagers, then followed with an impressive selection of barrel aged beers, and hoppy ales. All these years later, you'll find them still focusing on a core lineup of award winning lagers, some under the side brand; Toller, as well as fruited sours, IPA's, and thick stouts.
Tasting Notes
This inter-galactic offering is an intensely grapefruity twist on a west coast IPA featuring a stellar display of hop varietals! A solid malt backbone is outshone by Galaxy, Comet and Eclipse hops character, intensified by tangy grapefruit juice. The finish is a juicy, citrusy supernova of flavour
Method
Characterised by floral, fruity, citrus-like, piney or resinous American-variety hop character, the West Coast IPA beer style is all about hop flavour, aroma and bitterness. Burnside Brewing takes it a step further and adds copious amounts of grapefruit juice to this beer.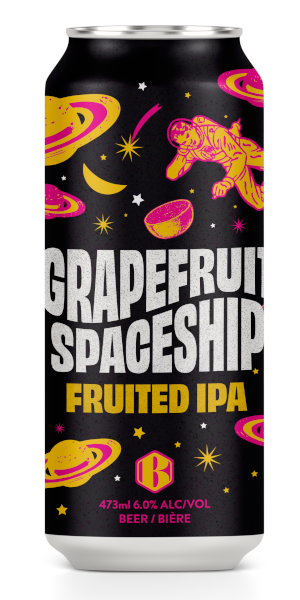 You may also like...