Candid Brewing – Kanpai Rice Lager (473ml)
Tasting Notes

CrispLightrefreshing
Candid is an independent family-owned and operated brewery that handcrafts small batches of beer right in the heart of Antigonish.
Located in the former Casket News building on 88 College Street, head brewer Bryan Druhan and his partner Louise Brennan opened Candid in May 2021 with the aim of providing a friendly, cozy space for beer enthusiasts, novices and everybody in between.
Tasting Notes
Kanpai is a rice lager brewed in collaboration with The Townhouse. Inspired by the dry lagers of Japan, Kanpai is super easy drinking with a light body from the addition of rice. Hallertau Blanc hops add a refreshing crisp white wine characteristic, making this beer fine company for all types of food.
Method
The adjunct lager is a sub-style of the pale lager, the most common style of beer in the world. It is nearly identical, except adjunct lagers are brewed with other forms of fermentable sugar, such as corn or rice. This cuts down costs, and produces a finished beer with lighter mouthfeel. Rice lagers are often some of the lightest and most refreshing beers you can find, and they pair very well with all sorts of lighter foods.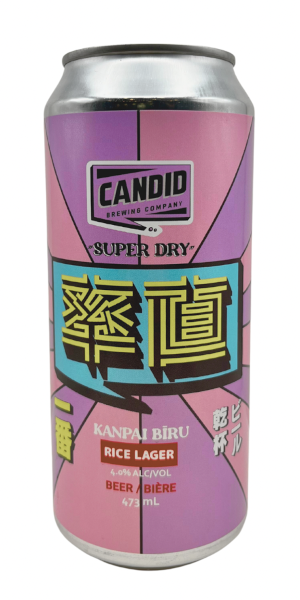 You may also like...