Castello Tricerchi Brunello 750ml (750ml)
Food Pairing

CheesePasta BologneseRoast meats
Castello Tricerchi extends over 400 hectares on the northern slopes of Montalcino. 13 hectares are dedicated to the cultivation of Sangiovese Grosso , the vines which produce Brunello and Rosso di Montalcino . The Castle of the Tricerchi family , completed in 1441, dominates the property and is now the home and headquarters of the Tricerchis' direct ancestors, the Squarcia family.
The vineyards are planted at 290 m on the northern slopes of Montalcino, which are characterised by cooler temperatures and marked thermal variations. The estate is comprised of 13 hectares of vines, all of them Sangiovese Grosso, which surround the castle in 7 separate plots cultivated using spurred cordon and guyot: La Vigna del Velo, whose name derives from the chapel devoted to the Virgin of the Veil, the Vigna del Castello, the Vigna Sant'Anna, the Vigna del Lago, the Vigna dei Cipressi, the Vigna del Piano and the Vigna Nuova. The soil composition is a homegenous limestone clay and sand. The vines are almost exclusively north facing which allows for uniform ripening. Castello Tricerchi farms according to organic principles with great respect for nature.
The cellars are located inside the castle, in what were once dungeons. The temperature remains constant throughout the year, thanks to the thick walls and chambers of air above and below. The grapes are hand harvested and fermented with indigenous yeasts and undergo a long maceration period. The wine is refined using traditional methods in Slavonian oak barrels.
Tasting Notes
Vibrant ruby in the glass with a complex bouquet of ripe cherry, chocolate, tobacco, spicy and floral notes. The palate is structure and layered with flavours found on the nose; the tannins are ripe and smooth, the fruit is supported by juicy marked acidity. Overall the wines shows great harmony, balance and length with the structure and fruit to develop further in bottle for many years.
Method
Made from 100% Sangiovese grown at altitudes of 290m with West-North West exposure.  The soil is medium texture with limestone clay and sand.  The vines are   aged for more than 2 years in oak casks.  Brunello expresses the character and nobility of the hand harvested grapes from the Vigna del Castello and the Vigna del Velo.  The vines are about 25 years old and densely panted.   The grapes are hand harvested at the end of September / beginning of October and are carefully sorted before fermentation with indigenous yeasts and a long maceration period in temperature controlled stainless steel.  The wine ages for 30 months in Slavonian oak casks of 15 to 20hl and a further 8 months in bottle minimum.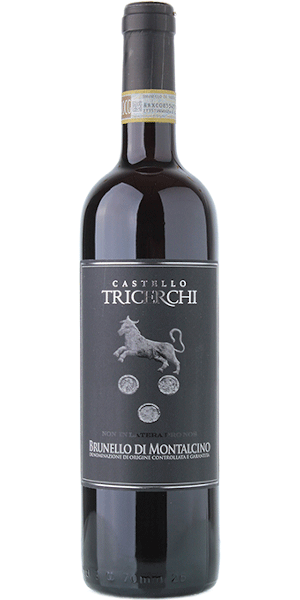 You may also like...