Chain Yard – Kings Saison Cider (473ml)
Tasting Notes

ComplexDryFruity
Chain Yard Urban Cidery has taken up residence in on Agricola street, Halifax in the former FRED salon and cafe location. Their goal is to craft approachable, unique and traditional ciders made from 100% Nova Scotia apples- never concentrate! Their tap room is a local hot spot; where patrons enjoy more Chain Yard ciders, as well as local beer, wine, and delicious food.
Tasting Notes
King of Tompkins County and Ribston Pippin apples come together in this Saison inspired, dry cider. Vibrant aromatics abound with clove, banana and bubblegum. Medium-bodied flavours of Saison yeast commingle with earthy ripe apple making King's Saison both expressive and refreshing.
6.6% abv
Method
A blend of tannic and acidic apples come together to create a complex and rich tasting cider, but Chain Yard also fermented this cider with Saison beer yeast, known for creating fruity esters and spicy phenol's from fermentation.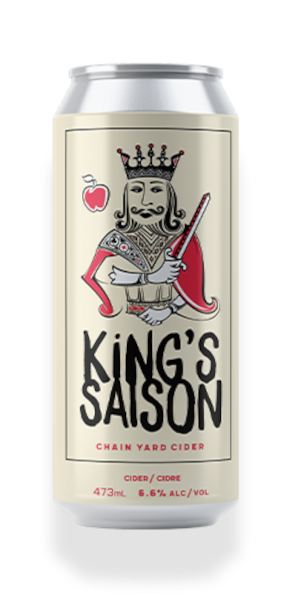 You may also like...