Chainyard – Frost Bite Winter Cider (750ml)
Tasting Notes

Baking SpiceCrispOff-Dry
Chain Yard Urban Cidery has taken up residence in on Agricola street, Halifax in the former FRED salon and cafe location. Their goal is to craft approachable, unique and traditional ciders made from 100% Nova Scotia apples- never concentrate! Their tap room is a local hot spot; where patrons enjoy more Chain Yard ciders, as well as local beer, wine, and delicious food.
Tasting Notes
Frost Bite is a handpicked blend of Nova Scotian apples treated to a slow, cool ferment, and matured with cinnamon, nutmeg and a touch of ginger. Surprisingly food friendly, this cider's Toasty spice and bold molasses notes are perfect to warm up cold winter days and nights, share with friends, or enjoy as a quiet glass in front of the fire.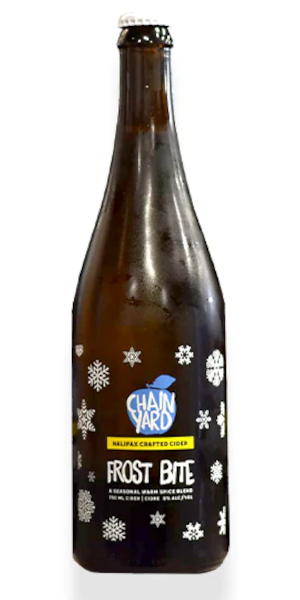 You may also like...