Chain Yard – Hazy Fraisy Strawberry Cider (473ml)
Chainyard Urban Cidery has taken up residence in on Agricola street, Halifax in the former FRED salon and cafe location. Their goal is to craft approachable, unique and traditional ciders made from 100% Nova Scotia apples- never concentrate! Their tap room is a local hot spot; where patrons enjoy more Chainyard ciders, as well as local beer, wine, and delicious food.
Tasting Notes
This cider was aged in steel and bursting with aromas that bring to mind walking through a ripe strawberry patch after a late summer rain. Light herbaceous notes lead to a burst of berry twisting into a zesty, finishing fruity tang. Finishes dry.
Method
Hazy Fraisy is an unfiltered co-ferment of strawberry and apple juices perfect for early Fall. For this, freshly pressed apple juice was added to a stainless steel tank and topped up with fresh strawberries. From there, the natural sugars in both the apple juice and strawberry juice start fermenting which results in an apple cider with intense strawberry aromas and flavours.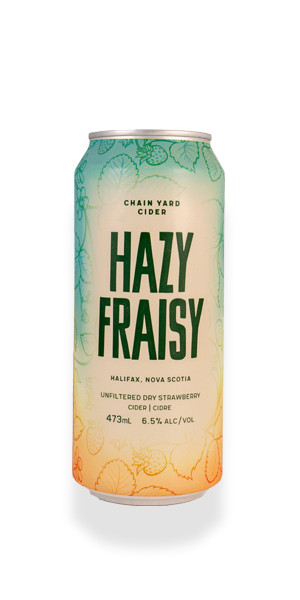 You may also like...