Chain Yard Hopped Up Cider (473ml)
Chainyard Urban Cidery has taken up residence in on Agricola street, Halifax in the former FRED salon and cafe location. Their goal is to craft approachable, unique and traditional ciders made from 100% Nova Scotia apples- never concentrate! Their tap room is a local hot spot; where patrons enjoy more Chainyard ciders, as well as local beer, wine, and delicious food.
Tasting Notes
Made from 100% Annapolis Valley Northern Spy, one of Nova Scotia's best cider apples. This single variety dry hopped cider is complex, easy drinking and refreshing. Cascade and Centennial hops to give an earthy and floral aroma with earthy and floral aroma with notes of green tea resulting in a well balanced and dry cider.
Method
Hopped Ciders are an interesting way to mix the flavour profile of cider with the citrus, herbal, and bright aspects of hops without adding any of the bitterness! Dry Hopping is a process where hop pellets are added during conditioning or fermenting to bring just the aromatic compounds of hops without the bitterness.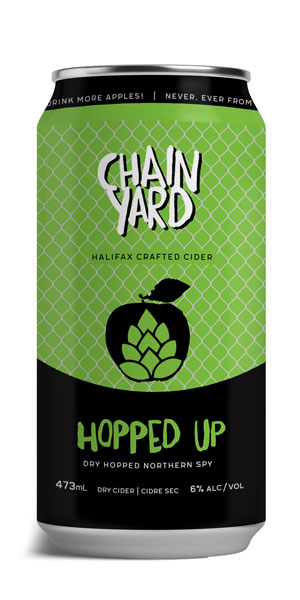 You may also like...