Chairman's Reserve Spiced Rum (750ml)
Like many modern Carribean distilleries, St. Lucia Distillers traces its origins to the sugar crisis the region experienced as South and Central America undercut the raw sugar trade in the Carribean through the bulk export of sugar beets. While on-site house rum production was once common, by the 1950s only two distilleries remained on St. Lucia: the Dennery distillery owned by the Bernard family and the Roseau distillery owned by the Geest family. The two joined forces in 1972 to keep St. Lucia distilling alive and moved all operations to the Roseau facility.
While both families have since sold their shares in the distillery, with Laurie Bernard stayed on as Managing Director until his passing in 2012, the project has flourished with greater resources and a more international mindset. The Chairman's lineup is a nod to third generation rum-maker, Laurie Bernard, who was Chairman in 1999 when it was first conceived and blended.
Tasting Notes
Chairman's Reserve Spiced is a cacophony of scents with cola, bitter orange, candied ginger and toasty cloves. In the mouth, familiar flavours appear with the cinnamon, allspice, cola and orange flavours all following through with a marzipan sweetness tying it all together on the gently peppery finish. Certainly one of the best spiced rums out there.
This one is may be a bit sweet for a sipper but it sure does shine in a myriad of drinks. Add some Chairman's Spiced to a cold brew coffee or perhaps make a pineapple daquiri for a hot day. If it's cold outside, try it with some warm apple cider.
Method
Due to the lack of sugar cane on St. Lucia, most of the high quality molasses for Chairman's Reserve is imported from Guyana or the Dominican Republic although the distillery still holds a few acres of sugarcane they use to enhance their blends. Remarkably, the molasses is delivered by ship and is pumped through a 12 inch pipe from the ship underwater onto the mainland and into St. Lucia Distillers storage tanks.
One of the most unique and interesting aspects of St. Lucia Distillers is their use of 4 distinct stills: a McMillan Coffey still, a 454 liter John Dore pot still, a vendome hybrid still, and a 6000 liter John Dore pot still all of which are mostly powered by recycled ship oil rather than purchased diesel.
This array of stills allows them to dial in various different flavour profiles and textures that can be used during blending. The various rums produced from their stills are aged separately in ex-bourbon barrels and in the case of Chairman's Reserve for an average of 5 years prior to being blended and married in oak for an additional 6 months. 
In the case of Chairman's Reserve Spiced, this blended rum is steeped with "Bois Bandé" (a local Carribean bark renowned to be an aphrodesiac) and a blend of fruits and spices including oranges, cloves, nutmeg and allspice. After the rum has been matured and steeped with the spice blend for up to 12 months, it is bottled at 40% ABV.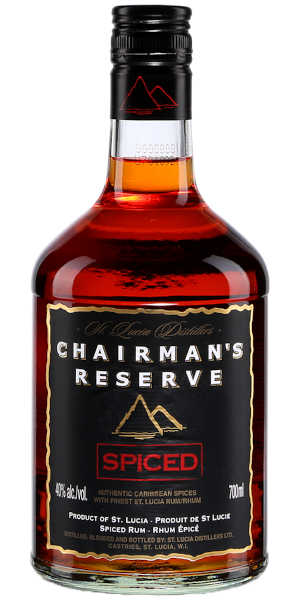 You may also like...