Chakana Sobrenatural Bonarda (750ml)
Food Pairing

EmpanadasPasta with Tomato SaucePizza
Alberto Antonini a consultant for the Chakana Vineyards first came to Argentina in 1995, after key contributions to the Super-Tuscan movement in the Italy. His philosophy is focused on using modern technology to express the terroir potential in making high end wines, while respecting the true nature of the grape flavours.
Today Gabriel Bloise is winemaker at Chakana. The estate is comprised of 121 hectares (299 acres) of vineyards, spread across the top terroirs in Mendoza. They have followed organic and biodynamic viticulture practices since 2012 and have organic, biodynamic & vegan certifications from Demeter, USDA & other organizations.
Tasting Notes
Bonarda offers a fresh and fruity nose with blackberry and blackcurrant aromas, herbal notes, good acidity and a bright, juicy texture. Low tannins, excellent freshness and a long finish.
Method
Sobrenatural is a new line of certified organic, biodynamic and no sulphur added wines from Chakana's Nuna vineyard.  Made from 100% Bonarda grapes grown on sandy loam soil in Luyan de Cuyo.   Fermented with native yeasts in concrete vats (no epoxy sealing). No fining, no filtration, no additives and no sulfites added.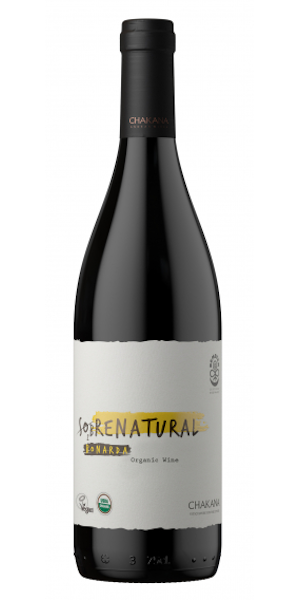 You may also like...