Chakana Sobrenatural Bonarda (750ml)
Farming Method

BiodynamicAll of our products that are tagged with the term Biodynamic are either biodynamic certified or biodynamic practicing. Learn More

Food Pairing

EmpanadasPasta with Tomato SaucePizza
Alberto Antonini a consultant for the Chakana Vineyards first came to Argentina in 1995, after key contributions to the Super-Tuscan movement in Italy. His philosophy is focused on using modern technology to express the terroir potential in making high end wines, while respecting the true nature of the grape flavours. The winemaking philosophy is one of minimal intervention that allows the purest expression of the place. Chakana operates with great respect for their local communityand endorses the fair trade standards of the international organization Fair For Life.
Chakana has a varied wine portfolio, some of their wines are made according to conventional, though sustainable methods, while others are certified organic and biodynamic.
Tasting Notes
Bonarda offers a fresh and fruity nose with blackberry and blackcurrant aromas, herbal notes, good acidity and a bright, juicy texture. Low tannins, excellent freshness and a long finish.
Method
Sobrenatural is a new line of certified organic, biodynamic and no sulphur added wines from Chakana's Nuna vineyard.  Made from 100% Bonarda grapes (Argentina's second most widely planted grape after Malbec) grown on sandy loam soil in Luyan de Cuyo.   Fermented with native yeasts in concrete vats (no epoxy sealing). No fining, no filtration, no additives and no sulfites added.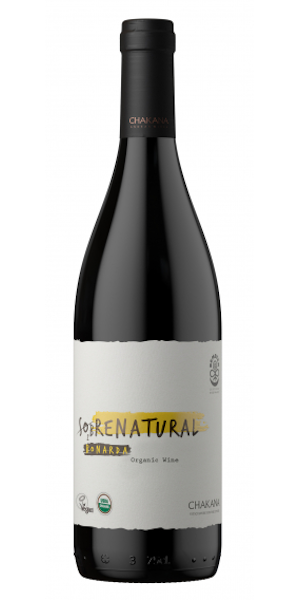 You may also like...