Champagne Vincent Couche Chardonnay de Montgueux (750ml)
Food Pairing

AperitifCheeseSeafood
Champagne Vincent Couche is an organic and biodynamic estate in the Côte des Bar region. Vincent's passion for grape growing and winemaking was inherited from his mother and he lovingly tends to his land like a caring parent. His terroir is rich and it expresses itself through the wines that come from it.
Ecocert and Demeter certification since 2011.

This is an Extra Brut Blanc de Blancs, 100% Chardonnay, grown in a single parcel in Montgueux. It is an assemblage of three different vintages with 8 years bottle ageing sur lies before disgorging. At once crisp and fruity and texturally rich and creamy. Limited production of 7000 bottles.
Tasting Notes
Clear yellow with green highlights, fine minerality with notes of white fruit, bread crust and sweet pastry. Fresh and creamy palate.
Method
This wine represents so much of what is exciting about the grower champagne movement. These Chardonnay grapes are grown using biodynamic practices on a 3 hectare island of chalky soil in Montgueux. Montgueux is a relatively young star in Champagne having only really been used for viticulture since the 1960s but quickly developing a reputation for yielding high quality Chardonnay. The grapes are hand-harvested and harvest times are dictated by taste and are often later than his neighbours as Vincent refuses to chaptalize (add sugar to) his wines. The wine undergoes a long and cool fermentation using natural yeast and full malolactic fermentation in oak. The wine is then aged for a minimum of 8 years sur lie before disgorgement and in keeping with the "less is more" philosophy, Vincent keeps the dosage as low as possible as well as adding very little to no sulphur. The result of this meticulous effort is a wine that expresses a very unique terroir in Champagne that combines textural richness with an enduring chalky mineral quality that keeps the palate excited for each sip. There aren't many people making Champagne like this and we are very lucky to have the opportunity to taste this love letter to the Montgueux microclimate.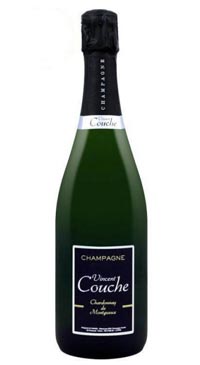 You may also like...