Chateau Branaire Ducru (750ml)
Food Pairing

BeefCheeseLamb

Grape

Cabernet FrancCabernet SauvignonMerlotPetit Verdot
Having recognized the unrealized potential of this viticultural sleeping beauty, Patrick Maroteaux and his family bought Château Branaire-Ducru in 1988. They decided to write a new chapter in the history of this fourth grand cru classé of 1855 and embarked on massive refurbishment and work involving all the components that contribute to the production of great wine: the vines, the vathouse and cellars, as well as the Château itself, which is the most visible representation of an estate. Patrick Maroteaux also became an ambassador of Bordeaux and Branaire-Ducru, presiding over the Union des Grands Crus de Bordeaux from 2000 to 2008, and the Saint-Julien appellation from 2004 to 2017. François-Xavier Maroteaux took over the management of the estate in 2017.
Château Branaire-Ducru is located in the heart of the Medoc, between Margaux and Pauillac in the Saint-Julien appellation area. It is surrounded by the other great Classified Growths that populate this outstanding terroir. The vines grow in a mixture of gravel and pebbles, deposited there by the River Garonne in the Quaternary Period. From the top of their hillocks, called "mounds", they overlook the vast Gironde Estuary, locally referred to as "the river". The vineyard is made up of around fifteen different micro-terroirs and covers 60 hectares (nearly 150 acres) that lie from East to West across the Southern part of the appellation area. The average age of the vines is 35 years. They grow in quaternary silicious and gravel alluvium, which makes this terroir one of the warmest in the region. As a result, the Cabernet Sauvignon grapes achieve perfect phenolic ripeness here, while the Merlot flourishes on beds of clay.
Method
The Cabernet Sauvignon accounts for 65%, the majority of the estate's vines. It is truly a star variety that contributes multiple layers, structure and great presence on the palate, while remaining fresh and fruity with an intense range of aromas.  28% of the vines are Merlot, which is the good companion variety that makes the wines round and supple. The 3% share of Cabernet Franc builds on the wine's floral notes.  And last but not least, 4% of Petit Verdot, the characteristic Medoc variety, add spicy hints to the blends.  
Blending, the crucial step where the new vintage is written. Since 2002, Jean-Dominique Videau has been marrying the different grape varieties with talent and expertise, creating haute couture wines at Branaire-Ducru.  In the cellar, the wine is aged to reach its purest expression.
The transformation of grape juice into wine is accomplished slowly as it becomes finer, clearer and purer. The wine is aged in oak barrels where it matures for at least eighteen months. The barrels are made from timber selected in the best French forests. 60% of them are renewed every year. The harvest is fully bottled at the Château.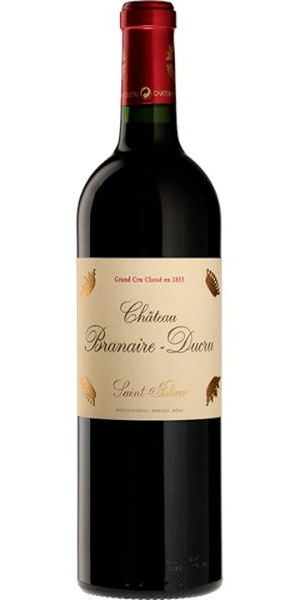 You may also like...