Chateau Cantemerle Haut-Medoc (750ml)
Grape

Cabernet FrancCabernet SauvignonMerlotPetit Verdot

Farming Method

ConventionalMost products with this label come from producers who do their best to avoid any intervention at all but it's possible that some of the aforementioned preventative measures and additions are deemed necessary. Learn More

Food Pairing

Cheddar CheeseBeefGame
Chateau Cantemerle is located in the southern part of the Medoc area of Bordeaux, on the deep gravel of Macau and Ludon communes. It has 91 hectares of producing vines today. The estate is noted for its architectural beauty and its stunning grounds and surrounding park that is a veritable botanical fairyland and home to numerous rare species of flora and lots of animal life. The estate's name recalls the "chant de merle" meaning the black bird's song and pays homage to the black birds singing in the wooded area surrounding the estate.
During the 1855 classification of the Medoc, Chateau Cantemerle was overlooked and not included at all. It's owner at that time was obviously displeased as this would have detrimental financial implications for the estate, so Caroline de Villeneuve Duffort approached the wine broker's union to contest this oversight. She showed them the selling prices of her wines over the years (which were as high or higher than many other classified 5th growth wines) and her chateau was added to the list of 5th growths, the first and only modification to this famous classification until the promotion of Mouton Rothschild in 1973.
Tasting Notes
The wine has a complex bouquet. In the mouth, it is both powerful and elegant, with rich flavors covering the palate. Notes of tobacco, black currant, cloves and a woodiness typical of ripe Cabernet. The tannins are very supple, lingering elegantly on the finish. At this stage of its development the wine is characterized by a delicate charm. Very classic, it calls for some time in a decanter before serving. A further two or three years in the cellar can bring out its lovely personality, but it will continue to improve for an even longer time thanks to the nature of the great 2016 vintage.
Method
The 2016 vintage is a blend of 52% Cabernet Sauvignon, 39% Merlot, 5% Cabernet Franc and 4% Petit Verdot. The grapes grow on silica-gravel soil with rolled stones which appeared as a result of thousand-year-old erosion of the Pyrennees by the river Garonne.  The vines are on average 35 years old.  The grapes are hand picked, hand-sorted and destemmed before crushing. Fermentation lasts about 6-8 days at 26 -28°C and macerate for about 30 days.  The wine then ages for 12 months in medium toast French oak barrels, 40% are new.  An ultra light fining is done prior to bottling.  
Our Thoughts
Cantemerle's style will appeal to the modern wine drinker who wants to drink their Bordeaux immediately, however this wine has all the structure and fruit to develop in the bottle and age well. It simply depends your taste preference and when you like to enjoy your Bordeaux. Or, buy one to drink now and cellar one to experience it later.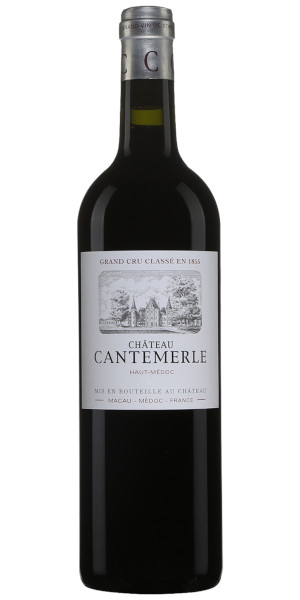 You may also like...