CHÂTEAU GRUAUD LAROSE (750ml)
Grape

Cabernet FrancCabernet SauvignonMalbecMerlotPetit Verdot

Food Pairing

BeefGameLamb
Gruaud Larose has always tried to give value to the role of people in the creation of its elixir; both to their work and to the bond established with the vineyard. Since its creation, in 1725, four families have succeeded one another at the head of Gruaud Larose: the Gruaud & Larose families, the Balguerie and Sarget families, the Cordier family and the Merlaut family. This family attachment has been passed on to the employees who often work at the Château from father to son and from mother to daughter. Located in the small, but significant red wine appellation, of Saint Julien in the Haut-Medoc district on the Left Bank of Bordeaux. Saint Julien has a reputation of producing reliable consistently elegant, age-worthy wines.
Since the vintage 2019, Gruaud Larose has been implementing the measures necessary for the conversion to organic and biodynamic farming.
Tasting Notes
Needs coaxing out of the glass, as is true with so many 2005s even at 16 years old, but straight off the first nose you get the most beautiful nuance and turmeric-strewn spice. It's exotic if subtle, with a creamy texture, grilled oak, black chocolate shavings, cassis and raspberry, all with the most beautiful sense of tiptoing through the palate, holding the line. Exceptionally well balanced, slate and smoked earth, giving signature St Julien finesse. You have really had to be patient for this wine, but it is utterly spellbinding, and starting to show its potential. Harvest September 20 to October 10. This one really does benefit from being carafed, because it keeps so much of itself hidden (I tasted it once in a carafe and once straight from the bottle). Brilliant, full of flavour. Harvest September 20 to October 11, 35% new oak. Jane Anson, JaneAnson.com, November 2021 98 pts
Method
2005 was overall a dry vintage, though the vines did not suffer, thanks to an established root system able to access underground water.  The weather conditions leading up to harvest were optimal and this rain-free harvest was one of the easiest vintages in the past 30 years.  This wine is classified second growth from the AOC Saint-Julien.  The grapes grow on a soil of Garonne gravel from the first quaternary, settled more than 600 000 years ago.  The blend is 605 Cabernet Sauvignon, 32% Merlot, 4% Cabernet Franc, 3% Petit Verdot and 1% Malbec.  The grapes are hand harvested, sorted at the winery before the addition of yeast to initiate fermentation in a combination of 40% wood and 50% thermoregulated concrete tanks.  After a 21 – 35 days maceration, the wine is pressed off the skins and transferred to barrels; 50% in barrels in a thermostatically controlled cellar, the rest in wooden tanks to rest for 16-18 months in French, fine grain, medium toast oak barrels.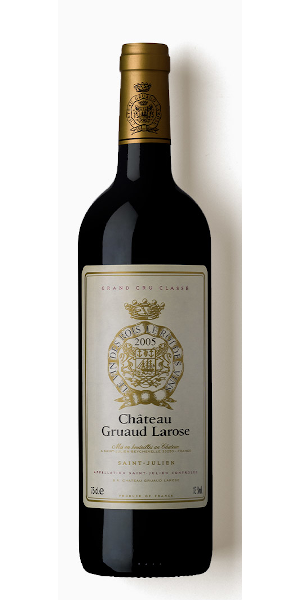 You may also like...