Chateau Tronquoy Lalande (750ml)
Grape

Cabernet FrancCabernet SauvignonMerlotPetit Verdot

Farming Method

ConventionalMost products with this label come from producers who do their best to avoid any intervention at all but it's possible that some of the aforementioned preventative measures and additions are deemed necessary. Learn More

Food Pairing

Aged CheeseLambRoast meats
Located in the heart of the Saint-Estèphe appellation and one of the oldest Saint-Estèphe wines. The origins of the estate date back to the 18th century and it has had several different owners until 2006, when it was acquired by Martin and Olivier Bouygues. They then embarked on a large-scale modernisation program which culminated in 2010 with the construction of a vast barrel hall and a new vat house equipped with a vertical press and 22 temperature-controlled stainless steel vats.
Château Tronquoy-Lalande is known for its fine site that stretches seamlessly over 30 hectares (74 acres) of historic outcrops in the heart of the Saint-Estèphe appellation. Here Merlot grapes flourish and 52% of the vineyard is planted with Merlot, a feature which distinguishes Tronquoy-Lalande from its neighbours, where Cabernet Sauvignon predominates. Cabernet Sauvignon accounts for 39%, followed by Petit Verdot (6%) and Cabernet Franc (3%). The soil comprises an 8-metre-deep layer of gravel and clay. The gravel ensures good drainage, while the clay retains water at depth which the vines can tap into as necessary.
Tasting Notes
Immediately attractive in their youth, Château Tronquoy-Lalande wines gain in elegance after a few years' cellaring. Merlot and Cabernet Sauvignon combine fruit and power, while touches of Petit Verdot and Cabernet Franc in the blend give the wine freshness, refinement and aromatic complexity. Well-integrated tannins and a certain spiciness are typical features of the blend, together with the trademark tobacco, resin, blackcurrant and liquorice aromas which give the wine its distinctive personality.
Method
Merlot dominates the blend followed by Cabernet Sauvignon, Petit Verdot and Cabernet Franc.  Each one has a particular role to play, enhancing the others and bringing roundness or density, aroma and flavour or length.  After blending, the wine is matured for a year in French oak barrels.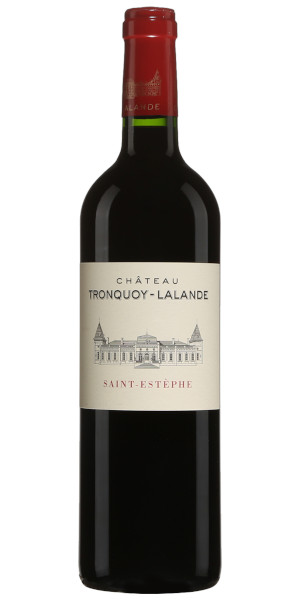 You may also like...