Chill St. It's a Vibe Pineapple Pinot Grigio Cider (473ml)
Chill Street Fresh Cider Market is the first store of its kind in Canada; a cider experience in a supermarket setting – literally feet from the grocery aisle. They make fresh soda and cider on site in a fun, unique and convenient supermarket setting.
Tasting Notes
It's a Vibe has vibrant aromas of fresh pineapple that mingle with notes of honeysuckle and pear, balanced perfectly with crisp apple cider and the crisp finish of pinot grigio. The mouthfeel is light, with lively carbonation and a slightly off-dry finish.
7.0% abv
Method
Apple cider is blended with fresh pineapple juice, and Pinot Grigio wine to create one of Chill St.'s classic wine/cider blends. This one is one of our favourites yet!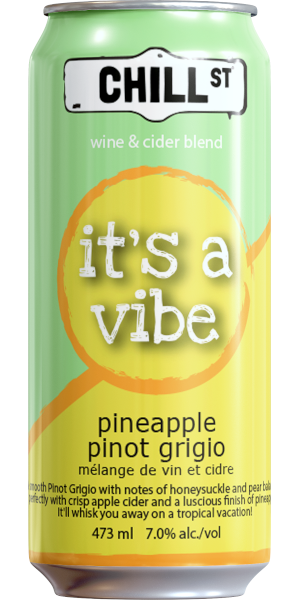 You may also like...