Chill St. – Sassy Farmer Cider (355ml)
Tasting Notes

CrispDryrefreshing
Chill Street Fresh Cider Market is the first store of its kind in Canada; a cider experience in a supermarket setting – literally feet from the grocery aisle. They make fresh soda and cider on site in a fun, unique and convenient supermarket setting.
Tasting Notes
This classic cider is made with MacIntosh, Ambrosia, and Honeycrisp apples, all picked and pressed by the fine folks at Noggins Corner Farm in Nova Scotia's renowned Annapolis Valley. The result is a robust flavour that's all apple.
Suggested food pairings: aged cheeses, lobster dinner, risotto, pork sausages, seafood chowder, apple pie, donuts
5% abv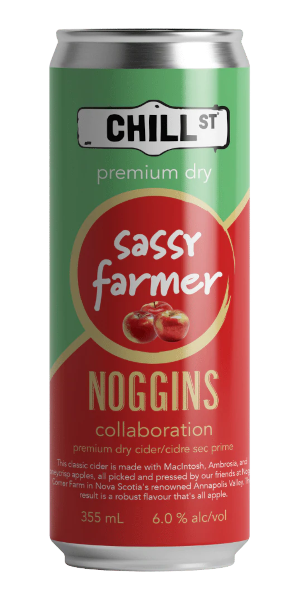 You may also like...