Chimay Grande Reserve Barrel Aged (750ml)
Beer Style

Belgian Strong Dark Ale
Chimay is the name of the Trappist brewery* that produces beer within the Scourmont abbey, 1km from the French border, and they have been brewing beer since 1862. Losing their copper brewing kettles to the Nazis during the war, the brewery had to restart over, but have since become arguably the most well-known Trappist brewery in the world. Like most Trappist breweries, Chimay has a house yeast culture, some may call a "super-yeast" that can produce exceptionally complex, and elegant styles of beer.
*The term Trappist Brewery relates to beer made within the walls of a Trappist abbey, where the brewing is performed by, or under the supervision of Cistercian monks. There are only a handful of legally defined Trappist breweries in the world.
Tasting Notes
The beer boasts a deep dark brown colour. On the nose, a soothing waft of vanilla on a rich foundation of sweet caramel and dark chocolate, associated with a discrete touch of toasty spice. On the palate, we discover a perfect balance gives room to the fruity aromas. In the aftertaste, we value tannin from the wood and the sweeter malt flavours.
10.5% abv
Method
The Grande Réserve barrel aged stands out from classic Grande Réserve (Blue) thanks to the many nuances provided by the additional fermentation in wooden barrels. Each year sees a different maturation in various oak casks. This vintage sees aging in 40% French oak and 60% American oak.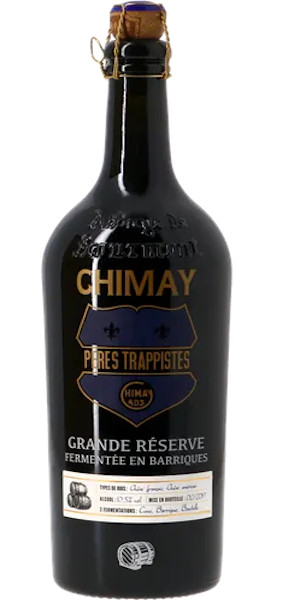 You may also like...