Church Mayflower White IPA (473ml)
The Church Brewing Company started with two brothers originally from Nova Scotia who moved out west. They've since come back home to start up their dream brewery.
The Church brews German and Belgian inspired beers in their brewery which used to be an old church. The team worked hard to restore the building and give it a new life as one of Nova Scotia's newest breweries!
Tasting Notes
This "white" beer pours a hazy pale yellow with a billowy white foam. The aroma is full of passionfruit, papaya, mango, pineapple, and fresh orange zest. The flavour is full of tropical fruits, light bubblegum, balanced with an assertive yet delicate bitterness. A creamy mouthfeel that finishes very dry.
Method
Greatly inspired by North American India Pale Ales but combining it with the influence of the white beers of Belgium. The marriage of bold citrus and tropical American hops on top of the creamy mouthfeel of the effervescent Belgian yeast – toasted coriander and orange peel is the perfect combination. This taking new and old tradition to create something truly unique.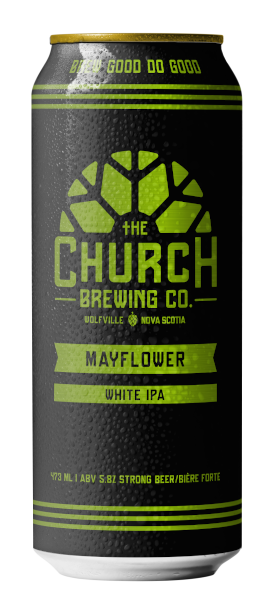 You may also like...