Church The Luxury Dubbel (473ml)
Beer Style

Belgian Dubbel
The Church Brewing Company started with two brothers originally from Nova Scotia who moved out west. They've since come back home to start up their dream brewery, and enlisted brewmaster Andrew Bartle, who cut his teeth in the Ontario scene as well as Marissa Begin who worked marketing and operations in Ontario as well.
The Church brews German and Belgian inspired beers in their brewery which used to be an old church. The team worked hard to restore the building and give it a new life as one of Nova Scotia's newest breweries!
Tasting Notes
A rich chestnut with burnt copper hues and a dense eggshell head. Big spicy cloves on the aroma with caramelized sugar, plums, and figs. The flavour is full of stewed fruit, caramel, and that clean candi finish that doesn't linger due to the lack of residual sugar and high carbonation.
Method
The Luxury is Chruch's homage to the great brewing traditions of these Abbey Ales brewed with some amazing Franco-Belge malts and Munich malt from Horton Ridge. An addition of special dark Belgian Candi sugar was added to the kettle to enrich the colour and luxurious flavours and mouthfeel.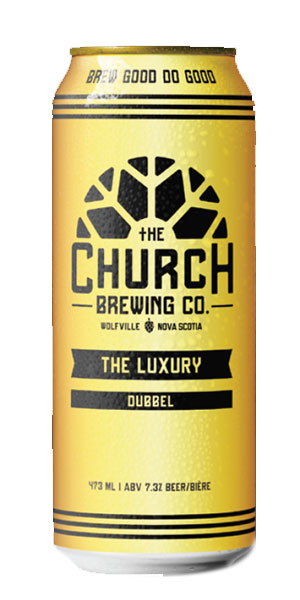 You may also like...