Clement X.O Tres Vieux Rhum (750ml)
Homère Clément was educated as a doctor in Paris and bought the Domaine de l'Acajou sugar plantation in 1887 while the island was in the grips of the great sugar crisis. South and Central America were exporting extremely cheap sugar-beets which had drastically undercut the Carribean sugar trade and the plantation was in bankruptcy.
Traditionally, rhum production had been more of an afterthought with raw sugar being the primary export of Martinique. But with raw sugar prices plummetting, it was clear that the raw sugar industry was not going to support the local farmers. Homère Clément decided he could do something about the unrest among the local farmers by getting them to harvest and press the cane for distillation. He had visited many armagnac producers while in France and thought that Martinique could use similar methods to produce just as fine a spirit from their sugar cane and to this day the similarities between the spirits is remarkable.
Today the Habitation Clement distillery sits on a 43 acre estate that grows its own sugarcane and has gained an international reputation for making some of the most complex and compelling rhum in the world. Each year, over 160 000 visitors flock to the habitation in order to take in the colourful history, scenery, and of course the rhum.
Tasting Notes
Clément XO boasts an enticing nose of honey, poached pears, ginger, christmas cake, and dusty leather. On the palate there is a maple-like sweetness quickly followed by vanilla, stewed fruit, candied walnuts, and some earthy wood on the long smooth finish.
There are some remarkable comparisons with armagnac here and similarly it is best enjoyed on its own or better yet with a well-aged cigar.
Method
Martinique is the only AOC (Appellation d'origine contrôlée) for rum production in the world and was formalized in 1996 in order to promote a series of quality controls and best practices agreed upon by the distillers on the island. There are designated areas for production and cane cultivation, approved sugar cane varieties, harvest dates, irrigation, and yields are all tightly controlled and only fresh pressed cane juice from the approved locations can be used in Rhum Martinique AOC products. All Martinique AOC Rhum is distilled only once in a copper column still and no sugar, cane juice, or fermented wash may be added after distillation.
In order to be labelled as Rhum Vieux, the distillate must be aged for a minimum of 3 years in oak containers of less than 650 liter volume. In the case of Clément XO, the rhum is aged for a minimum of 6 years in a combination of virgin casks and re-charred barrels in order to lend depth and character to the finished rhum. Bottled at 44% ABV.
Our Thoughts
It's very apparent that this rum was modeled after Armagnac; woody, dense, freshly turned earth, banana bread, and molasses. So woody, but so good. Slightly sweet, robust but vibrant. This is full-bodied and luxurious. A great, big long finish of walnuts and dark chocolate.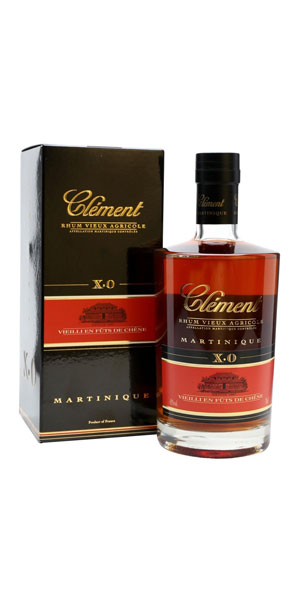 You may also like...