Clos Figueras Serras Del Priorat (750ml)
Farming Method

ConventionalMost products with this label come from producers who do their best to avoid any intervention at all but it's possible that some of the aforementioned preventative measures and additions are deemed necessary. Learn More

Food Pairing

BBQRabbitRoast meats
It was one day July 1997 that René Barbier showed Christopher and his wife Charlotte an abandoned vineyard just north of Gratallops called "Figueres". The same day the entire Cannan family jumped into their car and followed René to Barcelona. It was on a pavement café beneath Gaudi's "La Pedrera" building on the Paseo de Gracia that they met a charming widow and school teacher, owner of the vineyard. Negotiations were rapid and easy, land values being very reasonable at the time. By October 1997 the purchase was completed and the hard work commenced. At the outset René Barbier and his vineyard team agreed to take care of the estate called Clos Figueras. ("Clos" because it consisted of 10 hectares all in one piece and the prefix to most of the new wines on the Priorat scene and Figueras in honor of the two magnificent fig trees on the property). Initially the terrain had to be prepared for planting. Having been abandoned for 8 years there was much work to do on the terraces. A grove of centuries old olive trees and a few rows of mostly 20 years old Carignan vines were recuperated but most of the remaining hectares had to be replanted. Their hard work in reviving the estate is evident in the wines they now make.
Tasting Notes
Primary aromas of red fruit and subtle touches of caramel. Notes of minerality with hints of vanilla and Mediterranean herbs. Fresh and broad on the palate, long finish, mineral aftertaste and fruity with Mediterranean spices of rosemary, and lavender.
Method
Garnacha and Carignan grapes are hand harvested and sorted at the winery.  Fermentation in in 2,500 liter temperature controlled tanks.  Daily punch downs and two weeks of maceration with the skins before a vertical soft pressing.   The wine ages 7 months in second year French oak barrels of 500 liters before release.  Serras del Priorat is the estate's most fruit driven red wine, intended for early consumption while maintaining all the classic Priorat characteristics.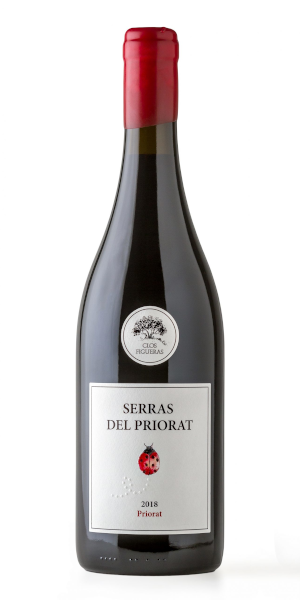 You may also like...