Food Pairing

CheesePorkRed Meat

Grape

Cabernet FrancCabernet SauvignonMerlot

Sub-Region

Cotes-de-Castillon
Clos Puy Arnaud is an organic and biodynamic wine estate making wine under the Grand Vin de Bordeaux Appellation. The estate has a history dating back to back to at least 1871 in the Cotes de Castillon region. However, the modern era for the estate begins in the year 2000 when Thierry Valette purchased the estate. Thierry Valette is related to the Valette family that also own Chateau Troplong Mondot and previously, Chateau Pavie. The 11 hectare Right Bank vineyard of Clos Puy Arnaud is planted to 70% Merlot, 25% Cabernet Franc and 5% Cabernet Sauvignon. It is the goal of Clos Puy Arnaud to increase the amount of Cabernet Franc in the vineyards over time to 40%. They are also planning on adding a small parcel of Petit Verdot and perhaps Malbec as well. On average, the vines are close to 30 years of age. But they also have old vines that are more than 60 years of age. The vineyard has a terroir of limestone and clay soils. However, they are located on the top of the Castillon plateau and the limestone in soil is unique. It is known as asteries, which is the hardest type of limestone found in nature.
Tasting Notes
In the glass, this wine is an opaque purple-ruby all the way to the rim, with aromatics that are initially brooding and savoury- featuring crushed stones, cacao, tobacco and grill char and include notes of huckleberry, blueberry, black plum, and violets. It is medium-plus in body, reminiscent more of elite-level Saint-Émilion bottlings than of juicier, more chocolatey Pomerol. It is rigid and upright, with great energy and tannins that loosen their grip after about an hour in a decanter. This is an impressive, age-worthy Bordeaux by any measure.
"This is one of the buzzier natural wines on the market today, delivering incredible purity and mineral expression from limestone-rich vineyards in the Cote de Castillon region of Bordeaux."– Ian Cauble, MS, SommSelect
Method
The Cotes de Bordeaux vineyard is managed exclusively by using 100% biodynamic farming techniques since 2008. While Stephane Derenoncourt is no longer the consultant to the estate, it was Derenoncourt who sparked the idea to try new things, first by using first organic farming methods, and then biodynamic techniques of Thierry Valette. Grapes harvested by hand from vineyards on the plateau and slopes of the Castillon-Côtes de Bordeaux AOC. The fruit breakdown is 75% Merlot, 25% Cabernet France from vines averaging 30 years of age.  A cold, pre-fermentation maceration is completed, then the grapes are whole berry vinified with indigenous yeasts in large oak barrels, stainless steel tanks and cement tanks.  Malolactic fermentation takes place in a combination of vats and French oak barrels. The wines are then aged in 30% new, French oak barrels for 12 to 14 months before bottling.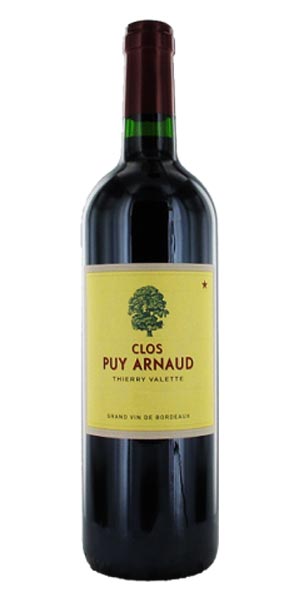 You may also like...