Crazy Uncle Big Lemon (473ml)
We all have one. We all love him. He's like a big kid, in an adult's body. He's the one who may have grown up but still knows how to have fun and enjoy the moment. His frivolity makes him a unique, unmistakeable presence, a treasured part of this party we call life. A crazy uncle, by definition, does not blend into the crowd. He brings big flavour to the party, and flavour is everything.
It's this same uniquely bold yet lighthearted personality that inspires our drinks. All grown up, and ready to have some fun.
Tasting Notes
Authentic, adult style, hard lemonade made with real lemon juice, pure cane sugar, and fresh mint; then artfully lightened with a splash of soda. Hits all the right buttons, it's lightly sweet and flavourful with a refreshing spritz. Easy to serve and easy to enjoy. Drink on its own, with good company and fresh summer fare.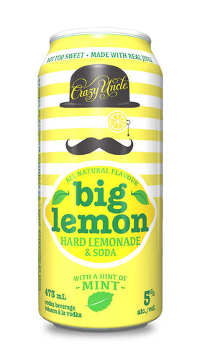 You may also like...