The Damrak harbour (Amsterdam's "inner harbour") is the mooring place for merchant ships arriving from and departing to exotic ports across the globe. Here herbs, fruits and spices are unloaded before being weighed and tested for quality. Who or where Gin was invented is not actually clear, but it is evident that the Dutch make delicious Gin and Damrak is one of the best.
Tasting Notes
Distilled in the Lucas Bols distillery in the heart of Amsterdam. This Gin is anything but a London dry; it is fresh with lots of citrus notes. There are 17 different ingredients that go into Damrak Gin. The main distillate is Curaçao orange followed by other citrus fruits. The juniper is noticeable, but not dominant in this particular gin. Other herbs and spices include angelica root, cinnamon, lavender and star anise.
Our Thoughts
Damrak is one of the oldest known Gin recipes and distilled in the heart of Amsterdam. Fresh and delicious, this Gin has smooth and robust flavour from more than 17 botanicals. I love the citrus and honeysuckle notes, especially when I add splash of Elderflower syrup to the mix. Bring on Spring!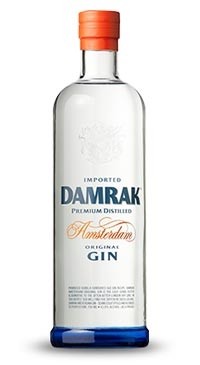 You may also like...