D'Angelo Aglianico del Vulture (750ml)
Food Pairing

BBQGameRed Meat
The D'Angelo winery has been growing this historic Aglianico grape for close to a century in Basilicata. Siblings Rocco and Erminia D'Angelo are focused on quality and farm 35 ha of vineyards and produce 300.000 bottles yearly. The company has 2 estates, the first one is used for the wine-making process and the second one for maturing the wine in barrels. The Aglianico grape variety has been grown in southern Italy for centuries where it was probably introduced by the Greeks during the founding of their colonies.
Tasting Notes
This wine is composed of only Aglianico grapes sourced from volcanic soil and rests for 20 months in large barrels. Aglianico has been referred to as "the Barolo of the South" by wine expert Jancis Robinson. Though, the wines are more "gritty" and rustic; they share similar characteristics in their aromas of tar and rose petals as well as their lively acidity and tannic structure. This wine is very dry and balanced and takes on a velvety quality when paired with hard mature cheese or hearty meat dishes like Osso Bucco, lamb and game.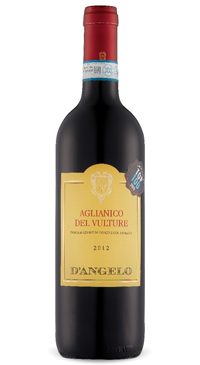 You may also like...