David Reynaud Beaumont Crozes Hermitages (750ml)
Domaine les Bruyères is situated in Crozes-Hermitage at Beaumont-Monteux below the Hermitage hill in the Northern Rhone Valley. The domaine has been part of the Serret / Reynaud family for generations growing and supplying grapes to other producers in the region. In the year 2000, David Reynaud began his quest to create a 100% bio-dynamic vineyard and to embark on making and marketing the wines from their superbly sited vineyards. This plan came into fruition when in 2003, the domaine became ECO Certified, and in these first few years his talent at winemaking also quickly became apparent and the wines assert brilliance in their complexity and elegance.
The domaine is made up of 14.5 hectares in Crozes-Hermitage, and an additional 5.5 hectares in local villages amongst the Rhone hills. The vines grown in the domaine are aged between 20 – 50 years, of which 87% is made up of Syrah. Reynaud also has small plantations of Marsanne, Roussanne, Merlot and Viognier. The soil of his Crozes-Hermitage vineyards is characterised by a clay and alluvial pudding stone top-soil with a chalky limestone sub-soil, with good natural ground drainage from the pudding stones. Reynaud, maintains low yields of 35 hl/ha across the Domaine and in a remarkably short time he has gained the attention of the wine press not only in France but around the world. One taste and you will understand why !!
Tasting Notes
Bright deep colour. This shows good depth and character with hints of chocolate and black olives to the bright vibrant fruit. Medium bodied with fine tannins.
Method
From younger vines and made for early drinking, this cuvee is vinified in cement. It will then be aged in large cement, while a little goes into barrel before assembling and bottling, unfined and unfiltered.
Our Thoughts
Are you ever in the mood for a 100% certified biodynamic, small lot, hand harvested Syrah from the foothills of Crozes-Hermitage that's grown in clay and limestone soils, is fermented with indigenous yeasts and matured in cement tanks and retails for $38!?! Well, then this just may fit the bill for you. David Reynaud has made quite the name for himself in making beautiful expressions of Syrah in the Crozes-Hermitage area. This wine is unfined and unfiltered, and showcases powerful dark fruit notes along with complex herbal and spicy undertones. Due to the winemaking utilized, this Syrah doesn't drink quite as heavy-handed as some in it's price range, but that's alright with me. Enjoy with braised lamb shoulder with a date and mint sauce. Or just drink it.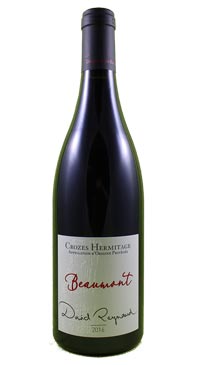 You may also like...