Delinquente The Bullet Dodger Montepulciano (750ml)
Food Pairing

BurgersPasta with Tomato SauceSausages
Delinquente is a small batch, single vineyard hand made Australian wine company. They work with organically grown, Southern Italian grape varieties from the Riverland, fermented with wild yeast and minimal intervention.
The Riverland can be very hot and very dry, especially in the during the grape growing season. For that reason, the team at Delinquente has chosen to work with Southern Italian grape varieties – varieties that are suited to the climate, need less water and are naturally drought resistant, are late ripening and retain natural acidity. This means that they can focus on more environmentally sustainable vineyard practices and produce wines with lower alcohol levels and lots of freshness and flavour.
Tasting Notes
Its thick skin provides a lovely, dark purple colour, and while the nose gives a feeling of power and intensity, the palate opens with a lovely, puckering fruit character, like a basket of freshly picked, mixed berries. The finish brings that tannin and those grippy, savoury elements back into play, while the acid keeps the freshness and length going. Pasta, pizza, BBQ, Salt and Vinegar Pringles – whatever, it's a wine for all seasons.
Method
Fermented for 9 days in open top fermenters and ages in stainless steel.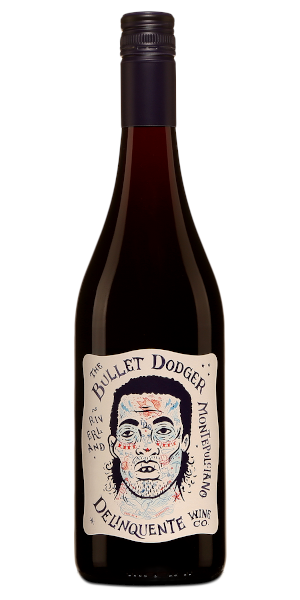 You may also like...