Food Pairing

RiceSeafoodTapas

Grape

Garnacha BlancaViura
Made by Bodegas Ramon de Ayala Lete e hijos. The domain is located in the tiny town of Brinas, in Rioja Alta. The population is about 250 people. The family owns 30 hectares of vineyards in Rioja Alta (Briñas, Haro and Rodezno) and Alavesa (Labastida). The oldest vineyard was planted in 1920, and most of the vineyards are 30 to 40 year old.
In 1985, a new functional winery was created. It has a huge underground facility equipped with stainless steel tanks and 500 liters barrels. The old bodega is now used for aging their Cava (yes, Cava can be produced in this region too!).
Today the Bodega is run by Gonzalo (the agronomist, in charge of the vineyards) and his uncle Ramon (the oenologist, in charge of the winemaking). Organic farming practices.
The name Deobriga (Divine Bridge) comes from Deo meaning God and Briga which means Bridge or Fortress. It is the name of a Roman town which, according to the historian Govantes (1846), was built on the route followed by Anthony Augustus from Astorga to Aquitaine; today, the town is known as Brinas.
Tasting Notes
Marked freshness and minerality on the nose. Vibrant and clean crunchy apple and stone fruit on the palate with notes of white flowers, almond and steely minerality.
Method
90% Viura, 10% Garnacha Blanca. The grapes come from estate vineyards located in Rioja Alta (Brinas and Haro, planted between 1996 and 2007) and Rioja Alavesa (Labastida, planted between 1990 and 2000). They are grown on chalky clay soils, with gravel. The grapes are hand-picked the last week of September, destemmed, and placed in tanks, where they go through a 5 hour cold-maceration. They are then pressed and after racking, the juice is transferred to 225 liter oak barrels for the alcoholic fermentation (25 days at 14-16 ° C.). The wine remains for 4 months in contact with its fine lees, with continuous batônage.  12.6% ABV. 1,000 bottles produced.
Our Thoughts
Though this is a barrel fermented white Rioja, do not expect that old school oxidative or nutty style here. I recently tasted this and was surprised at how fresh and bright the wine is. It reminded me a little bit of a weightier Albarino (those fresh Spanish whites from Galicia). There is no noticeable oak character her (spice, vanilla), the barrel fermentation and lees stirring adds pleasing textural roundness. This is a super fresh, crisp and mineral driven white that is an ideal wine for any seafood dish.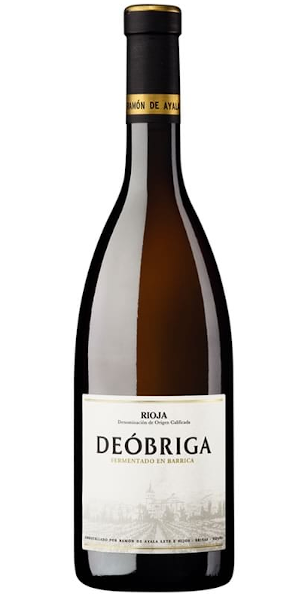 You may also like...