Dettori Renosu Bianco (750ml)
Food Pairing

LobsterPasta in cream saucesSeafood

Grape

ZironeMuscatVermentino
Tenute Dettori are natural winemakers crafting wines on the island of Sardegna. Father and son work together; they do not use any synthetic chemicals apart from sulphur: no added yeasts, no enzymes, or any other adjuvant either in fermentation or in maturation. The wine is neither filtered, clarified, or barriqued. Give the wine time to rest after shipping and leave it to oxygenate in the glass before enjoying. It is likely that some natural CO2 will be present in the wine and every bottle can be different.
The Vermentino "Dettori Bianco" is one of the leading products of the winery Dettori. Located on the highest hills of Sennori, in a natural amphitheater; Badde Nigolosu is the name that has been given to the micro-area of Romangia, this is the cru shepherd family farmers who grow for several generations with equal passion vines, wheat, vegetables, fruit and olive trees; crops and processes that are carried out entirely by hand.
The objective of Dettori, as Alexander himself said in 1988 is clear: "I do not follow the market, I produce wines that I like, wines from my territory, wines Sennori. They are what they are and not what you want them to be". There are no specifications to be met, there are no standard procedures, and there is only one ingredient: making wine they like, and do so by following the principles of biodynamics, without the use of fertilizer or pesticides. This means producing wines that respect the terroir, which follow the climatic conditions, which encapsulate the character of the man that produces them.
Tasting Notes
The nose is a bouquet of complex aromas ranging from dried figs to toasted almonds. The palate is substantial with a round texture, minerality and long finish.
Method
Dettori produces certified organic and biodynamic wines.  This wine is made from a blend of Vermentino, Muscat and Zirone (aka Giro, a traditional Sardinian grape). The grapes are de-stemmed but not crushed, macerated in cement vats on the skins without any added sulfur.  The wine ages in small cement tanks until bottling which usually happens after two/three years.  
Our Thoughts
This Vermentino blend from the sunny Italian isle of Sardegna is a wine for those who are curious and appreciate raw and natural winemaking.  Vermentino is Sardegna's signature white grape and in the hands of Alessandro Dettori, who farms according to organic and biodynamic principles, the grape shows its unique and complex side.  The grapes are de-stemmed but not crushed and fermented in concrete tanks with wild yeast and minimal sulfur. The result is a wine with aromatic intensity and a unique bouquet of ripe stone fruit, fresh herbs and a salty tang.  The palate has a rich and viscous texture and a saline minerality. This wine is at once interesting and delicious and will keep calling you back for another sniff and a contemplative sip. Enjoy with creamy ripe cheeses, seared scallops with fresh lemon and seafood pasta dishes.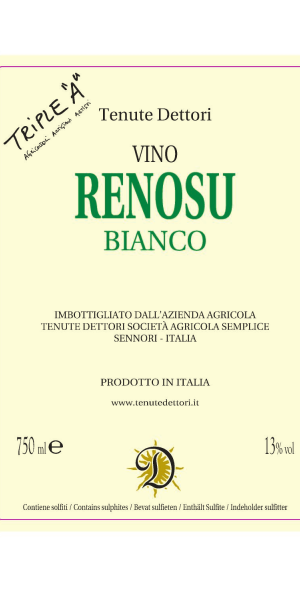 You may also like...