Dettori Renosu Rosso (750ml)
Grape

CannonauMonicaPascale
Tenute Dettori are natural winemakers crafting wines on the island of Sardegna. Father and son work together; they do not use any synthetic chemicals apart from sulphur: no added yeasts, no enzymes, or any other adjuvant either in fermentation or in maturation. The wine is neither filtered, clarified, or barriqued. Give the wine time to rest after shipping and leave it to oxygenate in the glass before enjoying. It is likely that some natural CO2 will be present in the wine and every bottle can be different.
Tasting Notes
Ample red fruit and spice on the nose; evocative of Mediterranean scrub and gives way to citrus, plum then hazelnut and licorice. Very intriguing with notes of sweet fruit and savoury herbs. Medium bodied, substantial on the palate, mineral and persistent.
Method
Dettori wines are certified organic and biodynamic.  Renosu Rosso di Dettori is a blend of indigenous grapes, Monica, Cannonau and Pascale.  The best clusters are selected on a custom-built steel sorting table. The grapes are de-stemmed but not crushed, then the must macerates on the skins in cement vats without the addition of any SO2. The length of maceration depends on the characteristics of the must; it can last from three to twenty days. Lengthier macerations are not part of the local culture. The wine is always drawn off by hand in order not to harm the skins. The wine then continues its journey in small cement vats until bottling, which comes usually two to three years later.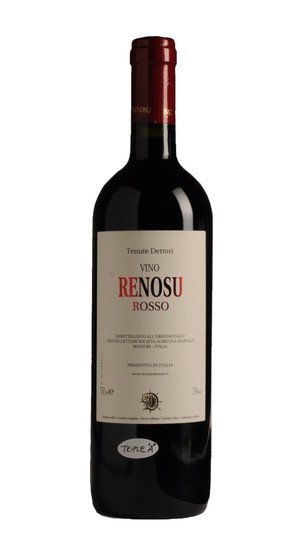 You may also like...