Dieu du Ciel! – Péché Mortel Imperial Espresso Stout (341ml)
Beer Style

Imperial StoutThese beers have complex malt bills, often with several types of dark malts that create very rich, and intense flavours. Learn More

Tasting Notes

CoffeeDark Chocolaterich
Easily one of the most loved and respected craft breweries in all of Canada. Opening their brewpub in 1998, Dieu du Ciel has gone on to world acclaim for not only their wide range of styles, but the quality and consistency of each beer they make. With a lively, and character filled pub in Montreal's Plateau neighbourhood, to their list of collaborations with breweries all over the world, DDC has something for everyone.
Tasting Notes
Péché Mortel is a benchmark among Imperial Stouts. Flavours of serious espresso roast, bitter chocolate + toasted caramel will make you swear that this isn't a beer at all, but a fancy espresso drink. The palate echoes the nose but with the added texture of a creamy milkshake and just a kiss of alcoholic warmth and floral hops on the long rich finish. This beer is a jaw-dropper.
100 Points – Ratebeer
Method
The beer that literally has its own day, Péché Day (usually sometime in March) is celebrated the world over in various beer bars that are sent special kegs of Péché variants ahead of time to all be tapped throughout the world. This is one of the most recognizable Canadian craft beers.
Espresso coffee is infused during the brewing of Péché Mortel, resulting in an intense dark beer with roasted malt flavours enhanced by bitter coffee.
Our Thoughts
The only 'Mortal Sin' about this beer is that it's only 341ml; it's an absolute treat of a stout. High in alcohol, this style was historically brewed to support the long and arduous voyage to export the beer from England to Russia; it now makes the voyage from Quebec to Nova Scotia which is a shorter journey but an important one the less! It can be enjoyed after dinner or if you're feeling adventurous, with some ice cream.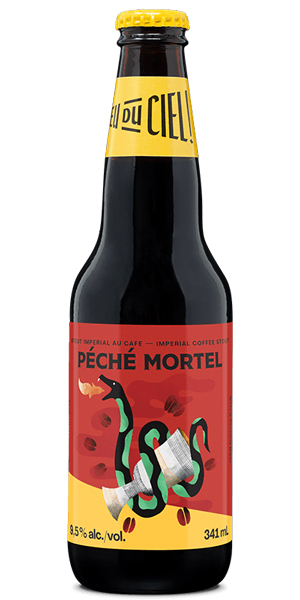 You may also like...