Dirler-Cade Gewurztraminer Kessler (750ml)
Food Pairing

CheeseDessertSpicy Foods
The Dirler-Cade estate is located in Alsace, France in the small village of Bergholtz. Guebwiller is the gateway of the lovely valley of Florival which leads to the summits of the Hautes Vosges. This family estate has 18 hectare of vines, almost half of their vineyards are classified Saering, Spiegel, Kessler or Kitterlé Grand Cru. The estate is a pioneer in the region in producing traditional method sparkling wines. The grapes are cultivated using biodynamic farming practices.
Tasting Notes
Intensely aromatic with fruit, floral notes and nougat. This wine shows great balance of tropical fruit, minerality and sweetness, which lands at 50 g/l of natural residual sugar and carries it very well.
Method
"Wine is made in the vineyards". To make a good wine, the grape must be harvested at full phenolic ripeness from well-rooted and healthy vines.  Each plot is closely monitored before determining the harvest date by tasting the grapes and measuring their potential alcohol degree.  There is minimal intervention during winemaking. The grapes are intact squeezed on inflatable press since 1987. The wines ferment either in tuns, or in stainless steel vat during 3 weeks to 3 months approximately. They stay on light lees during 9 to 12 months before being filtered on a sheet and being bottled.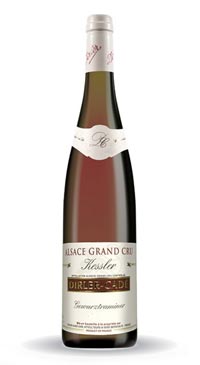 You may also like...