Domaine Belle Crozes Hermitage Les Terres Blanches (750ml)
Food Pairing

ChickenLobsterScallops

Sub-Region

Crozes Hermitage
Domaine Belle is a certified organic estate with a long and storied family history. In the 1600's, vines were grown in vineyards around the Chateau de Larnage and all the land and produce belonged to the Lord of Larnage. Each villager had to give three days unpaid corvee labour (one for pruning, one for ploughing and another for the grape harvest).
In 1769, at a village assembly called by the new Lord of Larnage, each family was granted a small parcel of land with vines for their personal use. From these feudal times the family holding gradually expanded, until in the 1930s it consisted of several neighbouring plots whose grapes were made into wine and sold locally. A great change took place when Louis Belle (Philippe's grandfather) took over the property. This great winegrower acquired some superb parcels of land in the communes of Larnage and Tain l'Hermitage. When Louis handed the land on to his son Albert in the 1970s, the holding consisted of 4ha spread over two communes (Larnage and Tain).
In 1990, under the impetus provided by Albert's son Philippe, who had recently returned from studying œnology, winemaking moved to the forefront with the creation of Domaine Belle. Together Albert and Philippe built a modern, functional winery, giving them the means to produce great wines which respect the terroir of the individual appellations.
Now managed by Albert's son Phillipe; the estate is committed to showcasing terroir and making the wines from Larnage known around the world. Today, Domaine Belle stretches over six communes (Larnage, Crozes-Hermitage, Tain l'Hermitage, Pont de l'Isère, Mercurol and Tournon), three appellations (Crozes-Hermitage, Hermitage, Saint Joseph) and covers an area of 25ha of vines.
Tasting Notes
Subtle notes of fresh hazelnut, turmeric and saffron somewhat reveal its vinification and élevage.
Method
A blend of 60% Marsanne, 40% Roussanne grown on limestone, sand and gravel.  Hand harvested.  Low temperature fermentation in oak barrles, 75% new, 25% one year old oak.  The wine was aged on the fine lees in the same barrels with malolactic fermentation,
bottling carried out after 20 months of aging.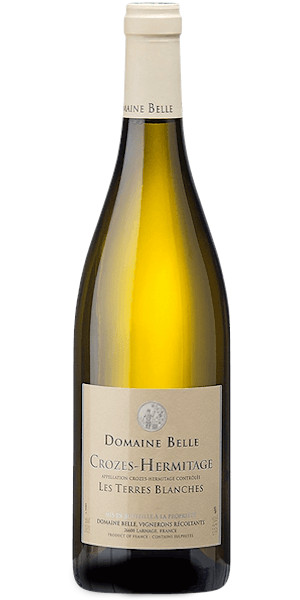 You may also like...