Domaine Chignard Fleurie "Les Moriers" (750ml)
Food Pairing

CharcuteriePasta DishesPork
Michel Chignard is a modest perfectionist who has been practicing his craft for 4 decades. His son, Cédric, now oversees the domaine with as much care as his father. The Chignard family is fortunate to own vineyards in one of the best sites of the Fleurie appellation in Beaujolais; "Les Moriers" is a 8 hectare parcel that extends into Moulin-a-Vent territory. These 60 year old vines have roots that run deep accessing minerals from the granite subsoil thus imparting that classic Fleurie freshness and "gout de terroir".
Tasting Notes
This wine beautifully expresses the terroir of "Les Moriers"; it is fresh and playful, with deep ripe fruit and finesse.
This is not simply a Fleurie, it is Fleurie "Les Moriers," and les Moriers is a steep vineyard that penetrates down into the Moulin-à-Vent zone. The result is like a marriage of the two. That explosive, floral Fleurie character emerges from an intense, regal, tannic, Moulin-à-Vent chassis. It is loaded with flavor and has an intense palate feel. – Kermit Lynch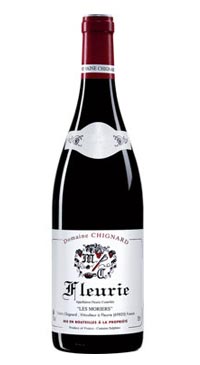 You may also like...