Domaine Le Brun Pouilly Fume (750ml)
Food Pairing

Goat cheeseoystersSeafood
Domaine Le Brune covers around 9 hectares in the centre of the Pouilly-Fumé appellation, stretching over the slopes of Saint-Andelain on a typical terroir of flinty clay. The first plots of Sauvignon Blanc and Chasselas were planted by the Lebrun family as early as the beginning of the 19th century. The estate's current layout was established by Fernand and Eugénie Lebrun. After farming the estate as leaseholders for a number of years, Alain and Laurent Lebrun are today the property's growers.
The average age of the vines is 25 years with a density of plantation of 7,000 to 8,300 plants per hectare. The crop is sorted in the cellar and transported by conveyor belt. The grapes are pressed slowly with separation of the juices, followed by ageing on the fine lees for 5 months.
Tasting Notes
The wine expresses it's origins on the nose; coming from flinty clay soils, displaying complex aromas of citrus fruit, tropical fruit and mineral hints of gun-flint. Lively acidity and wonderful tension on the palate, very concentrated with a long finish.
Our Thoughts
Classic Upper Loire in style, bone dry acidity, citrus, gooseberry and fresh herbal character and a slight smokiness. Lovely concentrated expression of Sauvignon Blanc grown on the other side of the Loire river from Sancerre. Long argued which style and region produces the finest Sauvignon Blanc in Loire; there is no doubt that this particular wine lends well to this debate.

If you are a lover of Sancerre and enjoy that dry, mineral and flinty nature, no doubt you will enjoy this beautiful Pouilly Fume made by 6th generation winemaker Laurent Lebrun.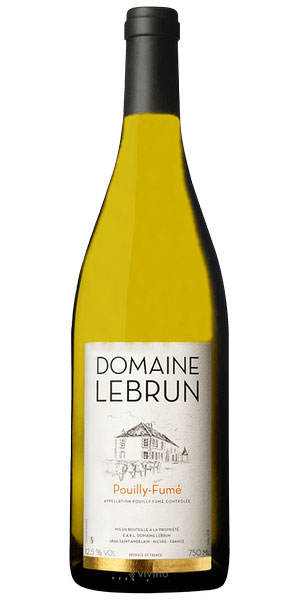 You may also like...