Domaine Louis Dupont Cidre Bouche (750ml)
The Domaine Dupont is located in Normandy, France. The orchards of the Louis Dupont Family estate cover 30 hectares (74 acres) right at the heart of the Pays d'Auge region, 6000 apple trees in 13 different varieties. The soils of the Pays d'Auge region, are marl and chalky marl and limit the growth of the trees leading to the production of smaller apples. The aromatic intensity is thereby increased and the ratio of skin to pulp helps to favour the extraction of tannins. Nitrogenous fertilisers (which swell the fruit by water retention) are not used – giving priority to quality rather than yield.
At the end of the pressing process the must has already acquired the attractive golden amber tints of cider. After several weeks of fermentation in vats, the cider is racked and bottled. Fermentation will subsequently continue slowly in the bottle, and the carbon dioxide that is naturally produced is retained by the cork to create the natural effervescence of cider. The faint haze and the deposit present are the proofs of this bottle fermentation. They give the ciders from the Domaine Dupont their unique aromatic complexity. Stocked upright in good conditions (less than 15°C (59°F) the cider will improve and its mousse will become finer and more persistent.
Tasting Notes
Cidre Bouché is created using the traditional method of the Pays d'Auge. Full of fruit and freshness, the taste reveals the aromas of apples and citrus with finesse ("cidre bouché" is a generic term for traditional cider, literally "cider
under cork"). This cider is made with 70% of bittersweet apples and 30% of acid apples. Controlled fermentation in stainless steel vats with indigenous yeasts. Stabilization of the cider is sought by carrying out successive racking. The fermentation is controlled by successive racking. The cider is bottled unpasteurized between March and April at 5.5% ABV. The result is a gold colour, with apple, pear and red berries on the nose. Baked apple, light tannins, freshness on finish. There is no sugar added and no gluten. 5.5 % ABV. Store your cider upright in a cool cellar (8 to 12°C.) If well cellared, it can be kept for 5 years after bottling, Because the cider is on its lees, the mouth will improve and become more complex. Enjoy as an aperitif, or to accompany white meats (chicken or pork) or cheeses.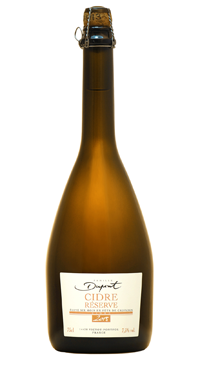 You may also like...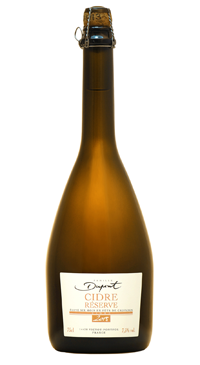 Domaine Louis Dupont Cidre Reserve