Donnhoff Kahlenberg Riesling Trocken (750ml)
Food Pairing

AperitifSeafoodSpicy Foods
The Dönnhoff family first came to the Nahe region over 200 years ago, and after establishing a modest farm slowly evolved into a full-fledged wine estate. Helmut Dönnhoff has been making the wine since 1971, and now his son Cornelius works alongside in the winery and in their 25 hectares of Erste Lage, or grand cru vineyards. Their holdings represent some of the best in the Nahe and all of Germany. Although the Nahe is a dry region, Dönnhoff does not water their vineyards as to encourage deep rooted vines. The soil is covered with organic material like straw and compost to preserve water and to avoid evaporation and erosion in heavy rains. The vines are all grown on wire frames, low to the ground to benefit from the warmth of the stoney topsoil, and at a density of approx. 6000 vines per hectare. Grapes are always picked by hand at Dönnhoff over 2-3 passes through each vineyard.
Tasting Notes
Generous fruit-salad character and floral notes. Behind the juiciness, the palate has a firm structure, clear minerality and a long finish.
Method
Made with riesling grapes  grown on the Kreuznacher Kahlenberg vineyard whose slope faces due south.  The soil is a bed of gravelly loam that gives the wine an lightly spicy character.  The Kahlenberg vineyard is a "Grosse Lage" (Grand Cru) vineyard lying within a "Erste Lage" (Premier Cru) vineyard.  Fermentations occur is a combination of stainless & used large oak barrels.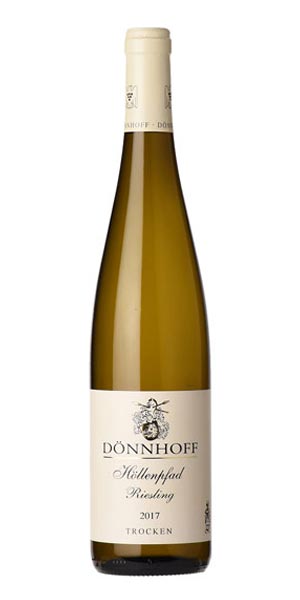 You may also like...