Duchesse Cherry Chocolate (330ml)
Brewery Verhaeghe is the brewery that produces Duchesse de Bourgogne. They are a small family-owned brewery in the southwest of West Flanders, Belgium. The history of the brewery dates back to 1885.
Tasting Notes
The brew pours a clear, dark reddish brown with a small pinkish tan head, with vibrant aromas of tart sour cherries, bread, cocoa, toffee, and vanilla. On the palate, the dominant taste is cherry and chocolate, with a not-too-sweet chocolate aftertaste and refreshing acidity.
Method
Duchesse Chocolate Cherry (ABV 6.8%) from the Verhaeghe Brewery is traditional Duchesse de Bourgogne — a blend of 1 and 2 year old sour ales aged in oak casks — with 20 kg of whole sour cherries from the Limburg region of Belgium added to each 100 liters of the maturing beer, along with chocolate essence.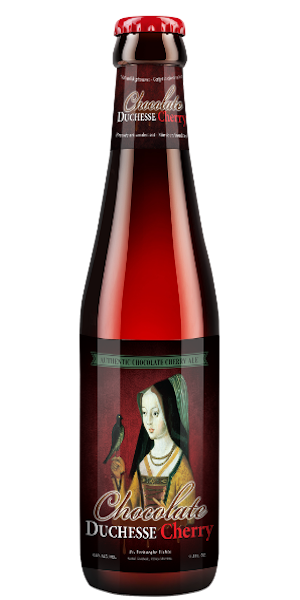 You may also like...