Dunham Funk Drupe – Wild Saison w/Apricots (750ml)
Beer Style

Mixed Fermentation BeerSaison
Located in the small country town of Dunham, Quebec, about thirty minutes from the Vermont border, is Brasserie Dunham. Brewmaster Eloi Deit, formerly of Quebec's famous Le Cheval Blanc, took over the struggling little brewpub as a temporary moonlighting gig. Before he knew it, he had cleaned house, ditched the recipes, and when the sun came up, he had created something truly special.
These days, Brasserie Dunham is known for a wide variety of beers, but especially their saisons and barrel aged beers. Surrounded by fruit farmers, honey producers, cideries, and wineries, Eloi's geography is not unlike Hill Farmstead, and the effect it has on his mindset as a brewer is similarly nuanced. Beautiful, fluffy, balanced beers that are bright and full of flavor.
Tasting Notes
Delicate and floral aromas off the bat, with dominate notes of tangerine that mingle with subtle brett-funk. The palate sees an array of tropical and citrus fruits such as grapefruit, meyer lemon, guava, and lime zest that are followed with a hint of brett. The brett-funk quality will surely develop and become more of a start player if this beer is cellared properly. The mouthfeel is light on its feet, with effervescent carbonation and a dry, snappy finish.
5.5% abv
Method
Funk Drupe started as a base of two different Saisons that were left to ferment and mature in old oak foudres, after that they were blended together and had apricot added. This kick started a new fermentation on the sugars of the apricots to develop another dimension of funky fruity complexity.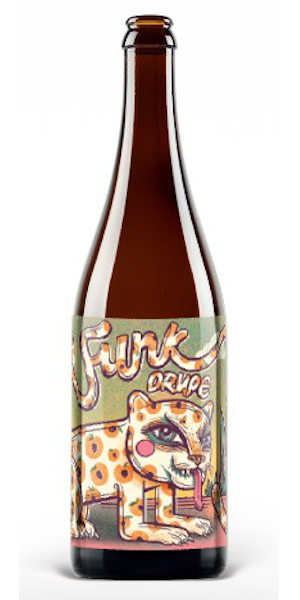 You may also like...