Erdinger Oktoberfest (500ml)
Erdinger is a privately owned brewery from Erding, Germany and has been in operation since 1886. Like most Bavarian breweries, they make a wide array of traditional German style beers, but they are most known for their Weissebier.
Tasting Notes
Pouring hazy gold with some amber hints. The head is frothy, pleasantly white and with a soft texture. The wheat aroma with a fruit and clove hint combines with a strong malty flavour at the back. Erdinger Oktoberfest blends the advantages of the well known wheat beer with the traditional Oktoberfest taste. A grainy flavour and lovely hoppiness, that lead into a crisp and refreshing mouthfeel.
Method
This is a slightly different take on Oktoberfest. Erdinger brews a weissebier at slightly higher strength and with more body for it's Oktoberfest beer. Usually this style is a malty golden lager. If you like the taste of the regular Erdinger weissebier then you'll enjoy this as well. Prost!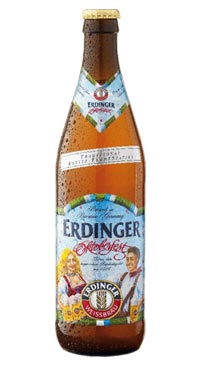 You may also like...