Erdinger Pikantus (500ml)
Erdinger is a privately owned brewery from Erding, Germany and has been in operation since 1886. Like most Bavarian breweries, they make a wide array of traditional German style beers, but they are most known for their Weissebier.
Tasting Notes
A true Bavarian aperitif, with its dark color and smooth creamy head, Pikantus is already a feast for the eyes. The flavor that develops on the palate is well-rounded and malty with a hint of nutmeg and fine nougat. Deep amber colour; lightly roasted coffee and malt on the nose; rich and creamy on the palate with malted barley, light chocolate and vanilla notes. The sparkling nature of Erdinger Pikantus harmonizes perfectly with its slightly sweet character, as well as its soft and delicate finish.
7.3% abv
Method
Pikantus is a Dunkel Weizenbock. Dunkel meaning dark, this beer utilizes a wide array of roasted and malted barleys, and wheat. Weizen meaning a large percentage of the malt bill consists of wheat, this provides subtle flavour and a cloudy appearance, and in this case, it's also an ale, fermented with the classic Bavarian Weissbier yeast. Finally, the word bock implying this beer sits at a higher alcohol range than most German styles.
Pikantus is Erdinger's strongest beer, and a true showcase of how good dark wheat beers can be. This is both elegant, and powerful.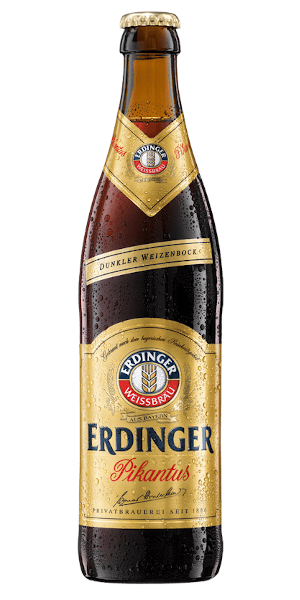 You may also like...