Fairweather Brewing – Black Forrest Schwarzbier (473ml)
Beer Style

SchwarzbierSometimes called black lagers, they may remind some of German-style dunkels but schwarzbiers are drier, darker, and more roast-oriented. Learn More

Tasting Notes

BalancedRoastySmooth
After a few incidents of fate and circumstance, Fairweather opened its doors in May 2017. The brewery is home in a revitalized warehouse in west Hamilton's Ainslie Wood neighbourhood. In addition to a taproom and bottle shop, they have a 60 seat patio, and a 10,000 square foot production facility which doubles as an event space.
Whether the brewers area exploring bright hoppy IPAs, rich, silky stouts and porters, elegant, classic continental lagers, or fruited and oak-aged beers that explore the edges of what beer can be, Fairweather will never be satisfied. They will tirelessly strive to create the best beer you will find anywhere. Period.
Tasting Notes
Pouring dark brown with ample aromas of chocolate, coffee, and toast that you left in the toaster juuuust a little too long. Roasty toasty malt notes are balanced with subtle hop aromas that are herbal and peppery and lead into a ultra-smooth finish that doesn't skimp on malt flavour. Finish is dry, balanced, and begging to be paired with all sorts of roasted and braised foods.
Method
Sometimes called black lagers, they may remind some of German-style Dunkels, but Schwarzbiers are drier, darker and more roast-oriented. They have a mild roasted malt character without the associated bitterness. Malt flavor and aroma is at medium to medium-high levels, but without the sweetness that often comes with very malt-forward styles.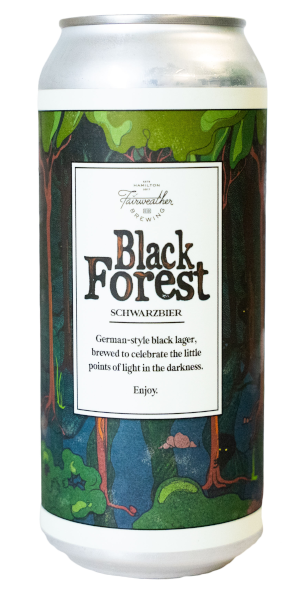 You may also like...