Fairweather Brewing – Gummy Venus Sour (473ml)
Tasting Notes

SmoothTartTropical
After a few incidents of fate and circumstance, Fairweather opened its doors in May 2017. The brewery is home in a revitalized warehouse in west Hamilton's Ainslie Wood neighbourhood. In addition to a taproom and bottle shop, they have a 60 seat patio, and a 10,000 square foot production facility which doubles as an event space.
Whether the brewers area exploring bright hoppy IPAs, rich, silky stouts and porters, elegant, classic continental lagers, or fruited and oak-aged beers that explore the edges of what beer can be, Fairweather will never be satisfied. They will tirelessly strive to create the best beer you will find anywhere. Period.
Tasting Notes
Hold on to your socks. This Fruited Sour beer is packed with rich tropical fruit notes, creamsicles, sweet tarts, canned pineapple, and a unique but subtle herbal note. The palate is fruity, juicy, and has a really well balanced acidic character that's not only tamed with fruit purees but also by a touch of lactose. The finish is dry and lengthy but very refreshing and demanding of another sip.
Method
Most often, sourness in beer is considered a fault, unless its the case of Berliner Weiss and  Kettle soured beers. Bacteria is added intentionally to produce different forms of acid that contribute to pleasant tart flavours and mouthfeel. These beers can be blended with various fruits as well, a common practice.
In the case of Gummy Venus – this sour beer is brewed with additions of orange, pineapple and restrained touch of rosemary & lactose.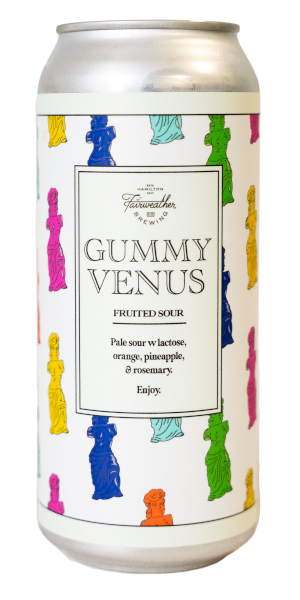 You may also like...