Fairweather Brewing – Menagerie Pale Ale (473ml)
Beer Style

American Pale AleThe beer style that launched the craft beer movement! Characterized by floral, fruity, citrus-like, piney, resinous American hops. Learn More

Tasting Notes

BalancedSmoothTropical
After a few incidents of fate and circumstance, Fairweather opened its doors in May 2017. The brewery is home in a revitalized warehouse in west Hamilton's Ainslie Wood neighbourhood. In addition to a taproom and bottle shop, they have a 60 seat patio, and a 10,000 square foot production facility which doubles as an event space.
Whether the brewers area exploring bright hoppy IPAs, rich, silky stouts and porters, elegant, classic continental lagers, or fruited and oak-aged beers that explore the edges of what beer can be, Fairweather will never be satisfied. They will tirelessly strive to create the best beer you will find anywhere. Period.
Tasting Notes
Refreshing and lively aromatics of freshly zested citrus, and subtle tropical notes. Fresh berry, melon, passion fruit. Aromatics are bright and easy going, and they lead into a fruity and clean drinking pale ale that's got just the right amount of hop fruit character that's balanced perfectly with a snappy bitter finish. A true "daily drinker"!
Method
The beer style that launched the craft beer movement. The American pale ale beer was inspired by the English pale ale, replacing its English counterpart's earthy, herbal hops with generous additions of boldly citrus and pine-like American varieties. Characterized by floral, fruity, citrus-like, piney, resinous American hops, the American pale ale is a medium-bodied beer.
Menagerie Pale Ale was brewed and dry-hopped exclusively with Strata hops. Strata hops are known for notes of Strawberry, Passion fruit, Grapefruit, Bubble Gum, Sage, and a dank herbal quality.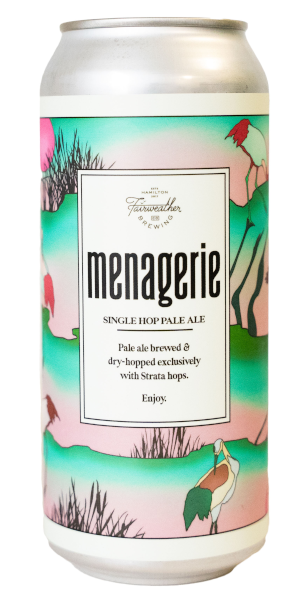 You may also like...